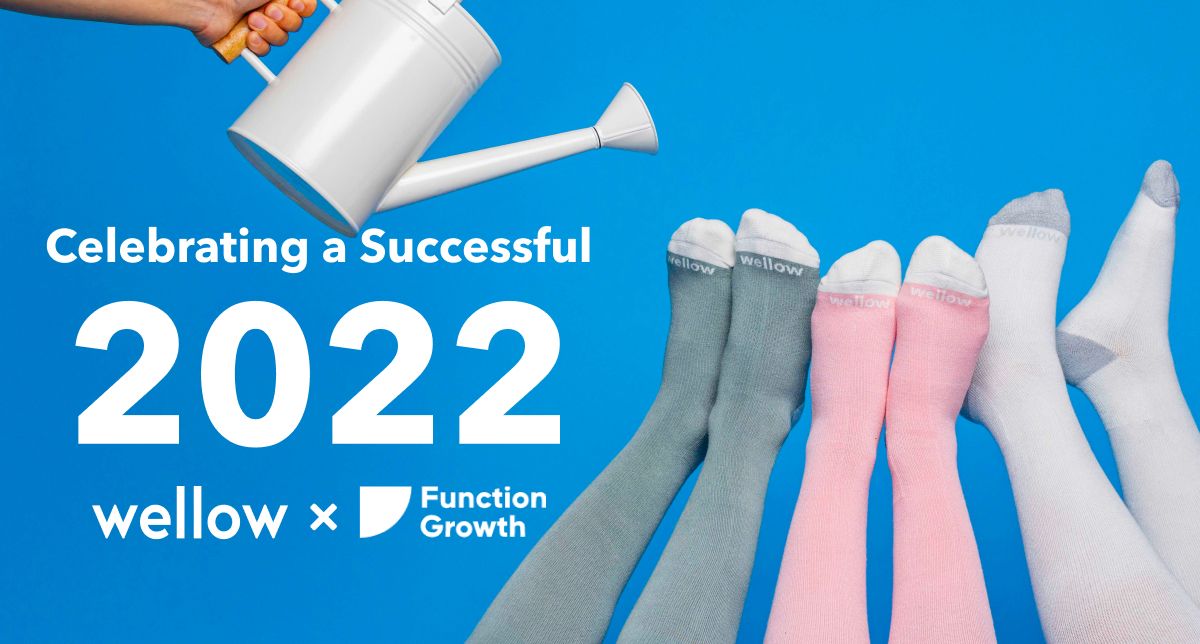 Celebrating a Successful 2022 with Wellow x Function Growth
It was just another day at Function Growth, our cozy consulting firm known for helping DTC brands scale and grow their businesses. But something was different this time. The team had been scaling our partners' brands for years, but now, we were taking on a new challenge.
We were ready to take on our own venture.
After months of researching and brainstorming, we decided to take on the compression socks industry. We saw an opportunity to make a difference in people's lives by giving them a comfortable way to improve their circulation. And so, Wellow was born.
The team at Function Growth knew we had a lot of work ahead of ourselves, but we were up for the challenge. We gathered our team, put our hard hats on, and worked tirelessly to launch Wellow. And our hard work paid off.
In our first year, we scaled Wellow to over $5 million in revenue and set the company on a run rate to do $18M+ in year two. Wellow socks have been purchased by over 100,000 happy customers who are now enjoying the benefits of comfortable compression. The shopping experience on our website converts customers at a rate 330% greater than the average Shopify store.
It wasn't easy… we did it in 2022. Arguably the worst year to be a DTC brand in recent memory.
It required us to change the way we think about growing brands. We got VERY serious about creative development and methodologies for scaling digital media. We launched, tested, and terminated hundreds of experiments to create a refined customer experience. And so much more…
We couldn't have done it without the support of our customers, but most of all, our team of amazingly brilliant people. This is just the beginning for Wellow and for Function Growth, and we can't wait to see what the future holds.
Follow along for more updates from Wellow and Function Growth! #compressionsocks #dtc #wellow #functiongrowth
Back to News